Inventory Review
Paul Ainsworth reports on the review:
In the October 2020 Bulletin, I mentioned that Pub Heritage Group had embarked on a major review of the way we present our Inventories. The main change is to move away from separate National and Regional Inventories to a single (National) Inventory with appropriate gradings to reflect different degrees of importance. I reported then that we were looking at having two tiers of entries but we've subsequently agreed that, given the number of pubs involved (around 1500), three tiers would work better. Progress has been a bit slow, not helped by a certain event, but we need to get this right and there's no imperative for an early resolution. Following rounds of voting, we now have an initial list allocating ratings to each pub (the top tier will be 'three star', followed by two star and one star) but there is much 'sore thumbing' still required and a small group of PHG members is working on that.

What's certain is that, once this initial phase is completed, we'll have a long list of heritage pubs in need of further surveying before their final allocation can be decided. Even now, we have a pretty good idea of which pubs would benefit from assessment visits. If you're willing and able to help with this task, do please get in touch and I can give you further information on what's involved.

If you want to help with this, please email Paul at: info@pubheritage.camra.org.uk


Mick Slaughter and Paul Ainsworth recently visited three Midlands National Inventory pubs where changes had been reported: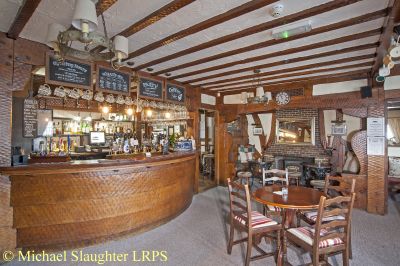 Cheshire, BLEEDING WOLF, Scholar Green. Owners Robinsons have undertaken a serious refurbishment over the summer but, thankfully, concentrating on the areas not of heritage interest. In particular, the back section, most recently used as a carvery, has been tidied up and looks much better. In the historic part, the main alteration is to the bar back where the old shelving has given way to new tiling and mirrors with metal and glass shelves attached - not great but given Robinson's track record on pub makeovers, it could have been much worse. The interior remains one of the best examples from an inter-war road house.
See the entry on the Pub Heritage web site.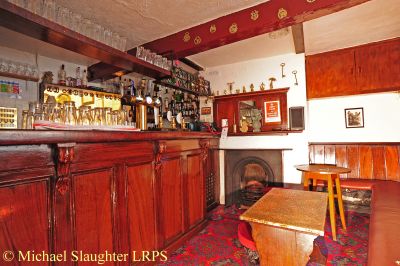 Cheshire, CASTLE, Macclesfield. As reported last time, this reopened on 14 September, having been shut since 2015. Again, there are significant changes at the back of the pub but, again, this was the already-altered part and is also much smarter - the new room is a shrine to local lad, the late Ian Curtis so Joy Division fans will find much to enjoy. The superb rooms at the front are very much as they were. We were amazed, though, to be told that the superb ceiling in the smoke room, with its delicate plaster details, is actually a recent replica as the original had been badly damaged during the time of closure. You'd honestly never know - brilliant craftsmanship. Really good choice of real ales here as well.
See the entry on the Pub Heritage web site.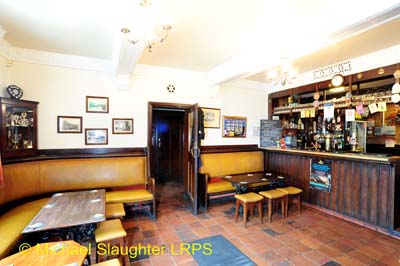 Staffordshire, BUTCHERS ARMS, Audley. During lockdown, the interior has been redecorated and a few 'improvements' made. The excellent public bar is structurally unchanged but now sports a new colour scheme with grey/blue walls and dark blue bench upholstery. In the lounge, an area of slatted wood has appeared on the back wall and strikes a rather jarring note; it also has a new colour scheme. None of the changes are sufficient though to threaten its Inventory status and, again, a fine selection of beers.
See the entry on the Pub Heritage web site.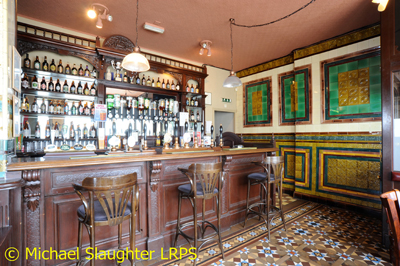 Shropshire, BULLS HEAD, Telford. The Bulls Head has been bought by Inglenook Inns. Their website states that they 'successfully identify distressed sites with huge potential and commit to joint investment and future vision'. They are advertising for a tenant: Inglenook Inns . They have also submitted a listed building application for repair works. Hopefully a good result for the Bulls Head as it been in a rather perilous position in recent years, as reported frequently in this bulletin. Thanks to Paul Jones for going to investigate.
See the entry on the Pub Heritage web site.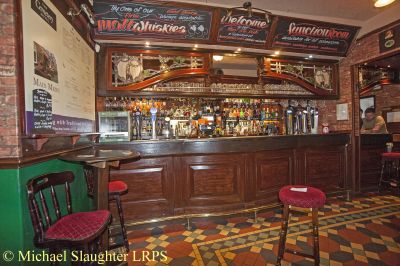 Greater Manchester, CEMETERY HOTEL, Rochdale. Thanks to Janice Arkulisz for alerting us to recent changes at the Cemetery Hotel. The backs of the fixed seating in the pool room have been replaced and re-painted, along with much of the woodwork through the pub which is now either blue-grey or black!
See the entry on the Pub Heritage web site.



A quick apology to Nigel Barker, landlord of the White Swan, Birmingham. The last bulletin stated he was also landlord of the Waterloo - which is not the case as he is, of course, landlord of the Wellington. So sorry for that Napoleonic muddle, and thanks to all those who pointed this out!